BOOK THE AXE TRUCK!
From Fortune 500 International Conferences, to brewery events, Backyard Birthday parties with 8 people, our team and mobile unit can handle it all. Fully equipped with lights, speakers, and a TV, our Axe Truck is the ultimate party in a box.
Provide an unforgettable experience at your next event with Jack's Axe Throwing, the only licensed mobile axe throwing business serving all of Colorado, NOW with ouver 8 additional activities to choose from as well as lighting and Decor Options provided all in house.
Don't just take our word from it, hear from our over 50 5 star reviews from our clients!
Receive 3 hours of unlimited Axe Throwing, Games, tournaments & more if you choose!
Pricing $30/person 10 person minimum | $600 Bronze Package Flat Rate Rental (Other packages available in our Brochure.)
HOW IT WORKS
Fill out our form below to download our full list of services!
Select what you want directly from our online brochure.
Within 24 hours, you will receive a no obligation proporsal for your next event.
Once confirmed, our team of professionals will be wherever you are, ready to turn your event into an immersive unforgettable experience!
Onsite location option:
Explore our Downtown Colorado Springs office location! Save $5/person by hosting axe throwing in Colorado SPrings at The Next US Coworking space AND get a complimentary meeting room space with any booking with 8 or more people! 525 North Cascade Avenue, Suite #100, Colorado Springs, CO 80903
Is it Safe?
We take safety VERY SERIOUSLY
All of our coaches combined have over 5 years experience in this industry and any new coach goes through a very strict training program to help identify safety concerns, Ultimately, we are here to give you lasting memories but safety is our number 1 goal.
Can Kids Throw?
Absolutely! As long as a parent or guardian is present and signs our liability waiver, all ages may participate. We see kids as young as 5 throw with us! We even have unique foam axes for kids and adults!
Can We Drink Alcohol While Throwing Axes/Playing Your Games?
As long as your group is following City, State and US Federal liquor laws, yes! All of our games are fully insured for alcohol consumption while participating. Explore many of our breweries we host events at by filling out our form!
Are Your Activites Insured?
YES! All of our activities are strictly monitored by our insurance company to meet local and national insurance compliance laws, saving you the hassle.
Can You List Us As Additionally Insured?
We can also provide 2 million in insurance coverage for your company, venue or personal coverage!
What does your liability waiver cover?
The full extend to our liability waiver coverage is another conversation, however, in short, you are releasing Jack's Axe Throwing and all representative parties from any injuries, or deaths occurred while participating in our activities. (However, do not worry, we're one of the oldest mobile axe throwing companies in the world and know what we are doing, so safety is our utmost priority.)
Is It Fun?
Imagine yourself on the beach, toes in the sand, you just caught your fish of choice, sand punctured your very first fresh green coconut, but you are also in the mountains, climbing trees, swinging and throwing an axe, making smores on a bright sunny but not too hot day. IN ADDITION to this, you're also doing what you've always wanted. If you can imagine all your dreams coming true at the same time, that's what axe throwing is like. SO... Yes, it's fun.
Mobile axe throwing is how we got started in this business and is our specialty. Our custom-built Axe Throwing Truck is made for your play, and our work. We're fully enclosed except for the back and can add on a full cage option if you are concerned about safety and need extra protection. If you'd like us to go into your garage, backyard, or other area, we can fit there too with custom built targets by one of our professionals!
Every truck rental includes:
In house developed games and tournaments included with every event
Commercial Offices
Residential Areas
Business parking lots and more!
Flexible pricing options to fit any size group and most budgets.
Onsite Axe Throwing Option with Venue Space!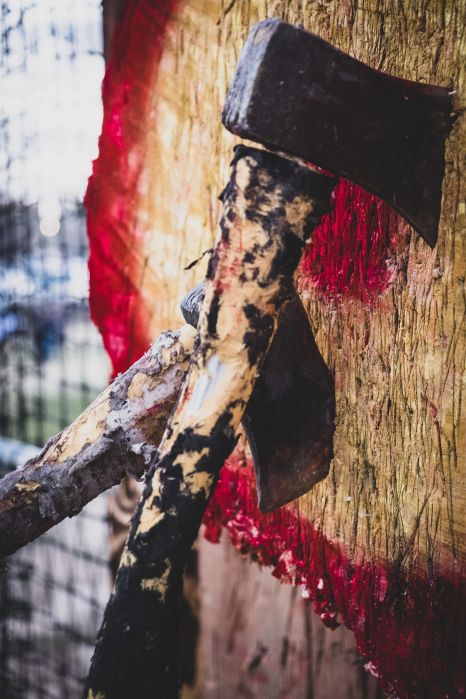 Located in the heart of downtown Colorado Springs with access to over 5,000 square feet of luxury indoor event space.
Get a full 3 hours of unlimited throwing, games, tournament, heater, music and foam axes for only $25/Person
Venue space from $2/Person!